Many Allevi bioprinting platforms utilize an internet-connected printer and browser based software to give you maximum flexibility and ease of use. From easy printer access by multiple users, to simple, sterile hood operation, you'll love your Bioprint Online experience! Below we discuss troubleshooting steps to help you get your printer online.
Connection Basics
WiFi Connection
When making a WiFi connection you'll use Allevi WiFi Connect. This is a WiFi network that either your printer or online adapter produces that allows it to communicate wirelessly with your computer. Connecting a computer to Allevi WiFi Connect will launch the Credentials Page.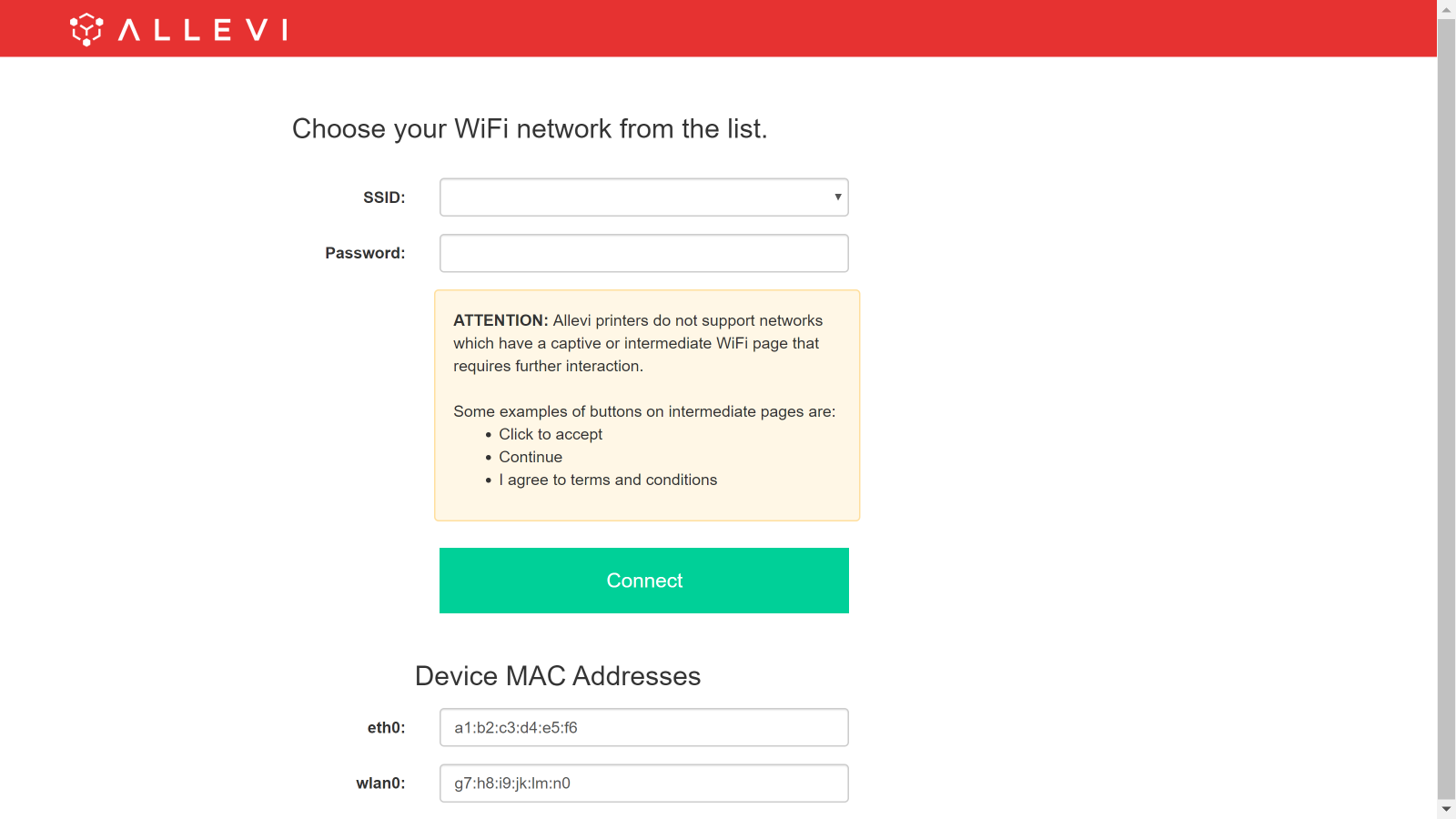 The Credentials Page will let you select the WiFi network you'd like to connect your printer to. Be careful making this selection (see the Quickstart Guide for your printer for more details). Once you have selected the network you want to join, enter your login credentials for that network. Once the printer has successfully connected to the internet, it will stop producing Allevi WiFi Connect. This process might take a minute.
Some WiFi networks might require a MAC Address registration to access the internet. Typically, if this is the case, there is an IT portal where you can complete the registration. You can use the wlan0 address from the Credentials Page for this.
If you or your institution change your login credentials, your printer will no longer have access to the internet. If this happens, you should see Allevi WiFi Connect appear again. You can repeat the connection process as usual. If you know that a credential change is coming and want to switch your credentials you can follow the steps in the troubleshooting section below.
Ethernet Connection
You can use the Ethernet port in the back of the printer or on the side of your online adapter to connect to the internet as well. Making an Ethernet connection is as easy as plugging the Ethernet cable (connected to an Ethernet port rather than a computer) into the port on your device and then restarting. However, some institutions require the registration of an Ethernet port. You can use the eth0 MAC Address from the Credentials Page of the Allevi WiFi Connect Network for this registration.
In some cases, an institution might require further registration credentials. If this is the case, feel free to reach out to the Allevi Support Team.
Troubleshooting
I entered my credentials and got the "Applying Changes" page but nothing happened.
The "Applying Changes" page just indicates that you finished selecting a network and entering credentials. The printer might need a minute or two to finish connecting to the internet. In the meantime, your computer should disconnect from Allevi WiFi Connect as it stops being produced. If you can still see Allevi WiFi Connect as a network option after this period, try the following steps:
I want to change my WiFi login credentials.
I do not have any WiFi connected to the printer, but I also do not see Allevi WiFi Connect in my list of available WiFi networks.
If Allevi WiFi Connect isn't available, it's likely that the printer or adapter has stopped producing it because of partial access to a WiFi network. If that sounds right, try these steps:
I accidentally signed into a network with an intermediate page.
You can follow the steps for exiting a partially accessed network in the previous topic.
I don't know if I should use a WiFi or an Ethernet connection.
This depends mostly on your work space. If you have an available Ethernet port and a cable that can reach between it and your printer, this is probably the optimal connection. If you are getting ready for some work under a hood, it might be easier to ditch the extra cable and use WiFi. Either option is going to be easy to use and robust, though, so you have options!
I want to switch from WiFi to Ethernet.
I want to switch from Ethernet to WiFi.
You can simply remove the Ethernet cable and follow the Allevi WiFi Connect steps as usual to form the WiFi connection.
I have plugged in an Ethernet cable and it doesn't seem to be working.
When an Ethernet connection doesn't work, it tends to be either a bad cable or more likely a registration issue. Follow these steps to get it working:
I cannot use the internet for my project or in my work space.
If you're interested in an on-premises version of the software, contact the Sales Team for more details.