Providing Researchers with the Ability to Study, Repair and Regenerate Bone

It has been long in coming but the idea of regenerating organs is beginning to take rise.  Skin has been one of the most prevalent simple organs in which humanity has seen the benefits of regeneration.  Scientists have wondered what would be next; as to which organ humans might begin to engineer the regenerative ability, and bone might be the answer.

Today, we announce the release of Dimension Inx LLC's advanced Hyperelastic Bone™ 3D-Paint, which will allow researchers around the world to begin testing hard tissue repair and regeneration in the lab. While its applications for human use are still under investigation, the research-grade Hyperelastic Bone™ material described and published in Science Translation Medicine by Drs. Ramille Shah and Adam Jakus in 2016, is now accessible to researchers through our easy to use Hyperelastic Bone™ Kit.

By understanding the specific defect size, through either MRI or CT, and combining  3D printing with the correct, advanced biomaterial, a surgeon could one day make a 3D printed structure in the shape of the patient's bone void and implant that structure,  ultimately resulting in repaired and regenerated, natural bone. This would prove to have a tremendous therapeutic benefit over traditional methods that either don't provide regeneration or can't be personalized.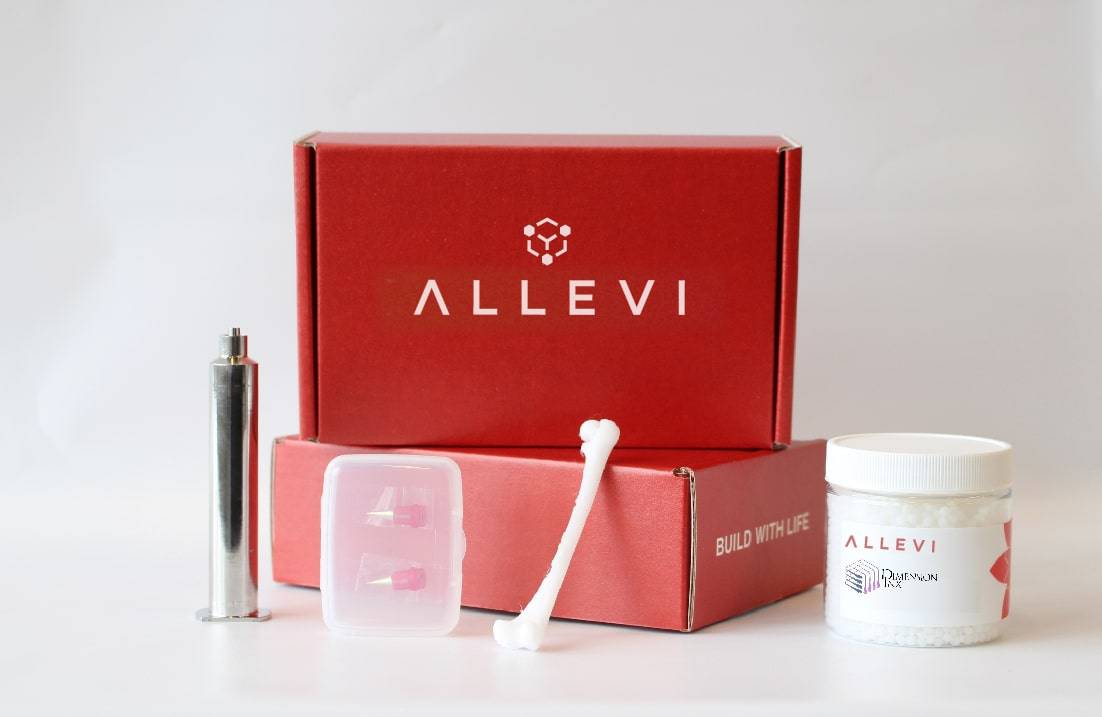 With the Hyperelastic Bone™ protocol researchers can begin taking bone modeling and engineering to the next level.  Dr. Adam Jakus, one of the creators of Hyperelastic Bone™ and Co-Founder and Chief Technology Officer of Dimension Inx, notes that "Hyperelastic Bone™ offers several unique advantages over existing hard tissue biomaterials, 3D printed or not. For starters, it is made up of 90 wt.% hydroxyapatite, the same mineral found in teeth and bones. But, despite being mostly mineral, it remains flexible, making it very user friendly. Its user friendliness combined with its bioactivity make Hyperelastic Bone™ an excellent hard tissue biomaterial."

Hyperelastic Bone™ 3D-Paint can be 3D printed into user defined structures and handled immediately after being 3D printed. The 3D printed materials and structures can then be cut, folded, rolled, punched, and more as the user the desires. Being comprised mostly of hydroxyapatite, Hyperelastic Bone™ is an excellent material choice for hard tissue related modeling, basic science, and engineering research. 

The ease of use of the Hyperelastic Bone™ is also key to providing wide spread adoption and testing. Taciana Pereira, Bioengineer and Tissue Kit Specialist here at Allevi, stated "we have tirelessly worked to provide an experience that is repeatable and achievable by scientists with no 3D bioprinting experience." The kit brings all the components necessary to 3D print and test the bone material using Allevi's 3D printers.