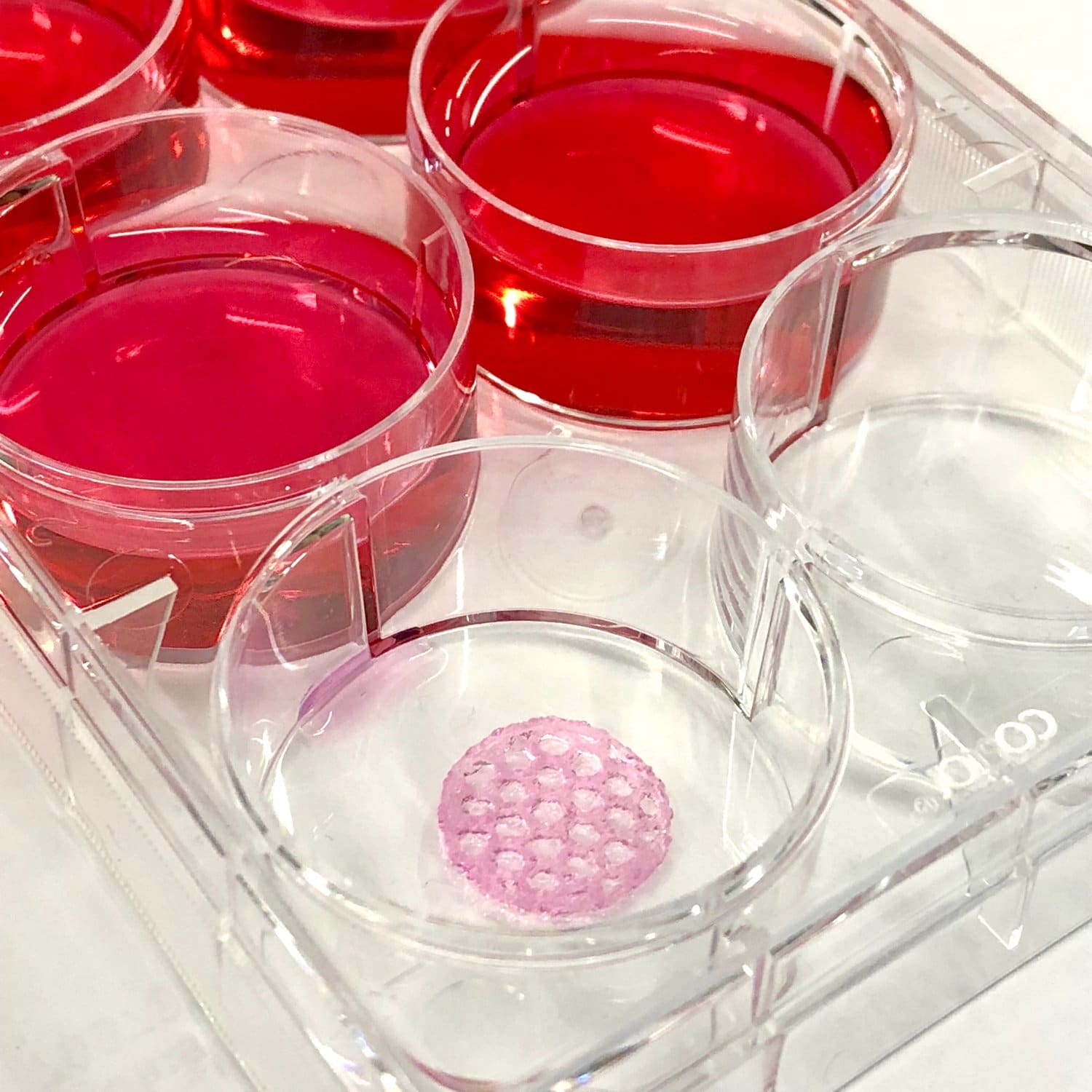 Overview
GelMA is a highly used material in bioprinting due to its mechanical properties and printability. However, methacrylating gelatin in the lab is an inconveniently time-consuming process. In addition, buying lyophilized GelMA to make it into the desired w/v concentration and sterile-filtering it in the lab is extremely cumbersome and inefficient. This protocol provides you with instructions on how to prepare sterile 20% w/v GelMA bioink solution that is ready to be easily mixed with your cell suspension and LAP (or photoinitiator of choice).
Materials
0.05 g LAP (or photoinitiator of choice)
Amber or Aluminum Foil Wrapped Glass Container
0.22 µm filter  
Cell Media
Micropipette Tips
Water/Bead Bath (37˚C)
Methods: Prepare GelMA Bioink (sterile-solution)
Our recommended GelMA print concentration is 10% w/v (with 0.5% w/v LAP), so you will need to mix your 20% w/v sterile GelMA 1:1 with a photoinitiator-cell solution. 
Place your GelMA syringe in a water bath at 37˚C;

Note: Our 20% w/v sterile GelMA Solution should only go through only one freeze-thaw cycle before use.

Aliquot 0.02 g of LAP in a glass container;

Note: Ensure that your glass container is either amber or tightly wrapped with aluminum to prevent premature photoinitiator activation.

Add 2 mL of cell media;
Place a stirrer in your vial and leave it on the hot plate at 60˚C until all LAP is dissolved (15-30 min);

Note: Ensure that your container is tightly sealed to avoid evaporation.

Take your LAP solution into a biosafety cabinet, ensuring to spray everything down with 70% ethanol;
Pull up your solution into a sterile syringe;
Using the plunger, carefully push the solution up until you see a meniscus form over the tip of the syringe;

Note: If there are bubbles trapped in the system, tapping the syringe may help make the bubbles surface. 

Attach the sterile filter to the syringe;
Push the plunger and place you filtered solution into a sterile centrifuge tube;
Prepare a cell pellet by following this protocol;
Ensuring that you have enough cells to yield your desired final cell concentration, pipette 2 mL of your LAP solution onto your cell pellet;

Example: If you wish to use a concentration 2.5 x 106 cells/mL and the final bioink volume will be 3 mL, you will need a total of 7.5 million cells in the 1.5 mL of LAP-cell solution that will be mixed with the GelMA syringe. Since you are preparing 2 mL of LAP-cell solution, you will need a cell pellet containing 10 million cells.

Pipette this solution up and down to ensure thorough mixing of cells in media;
Load 1.5 mL of LAP-cell solution into an empty sterile syringe; 
Follow this protocol on Cell-Bioink Mixing to mix your LAP-cell solution with GelMA;
Follow this protocol on how to load your GelMA for bioprinting, and this protocol on how to bioprint GelMA. If you encounter any problems while preparing or printing GelMA, check our GelMA troubleshooting guide.
We hope that you found this protocol on how to prepare GelMA bioink (sterile-solution) helpful! Return to the protocols section for more bioprinting tips and tricks.