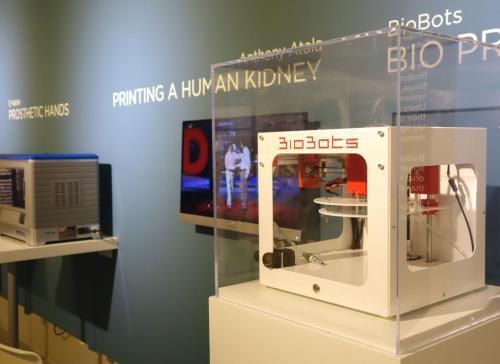 Why should the things we work with every day not be beautiful? At Allevi, we put a lot of thought into the look and feel of our products, as well as their function. We want to build devices that inspire our users to innovate and do things that have never been done. As a result, our Allevi BetaBot was recently on exhibition in the Museum of Design in Atlanta.
We're changing the look of the lab bench, with the smallest, lightest high-resolution 3D bioprinter on the market. We designed it for you, and all the amazing things you're going to do with it, and we want it to look as amazing when you're using it, as when you're not.
When we started designing the Allevi BetaBot, we were mindful of how it would look in your lab. We didn't want to emulate the lab tools of the past – clunky, large in size, difficult to operate. We set out to make something different. First, we studied how you work in the lab to ensure that the BetaBot slides easily into your workflow. Once we had considered its key features, we worked to ensure that it visually looks different than all of the other tools on your bench. Whether in form or function – Allevi bioprinters are like nothing else.
We're even prouder of our latest design creation: Allevi 2. Sleeker, more refined, with all the features you asked for.
Thank you to the Museum of Design in Atlanta for featuring Allevi in your exhibit!