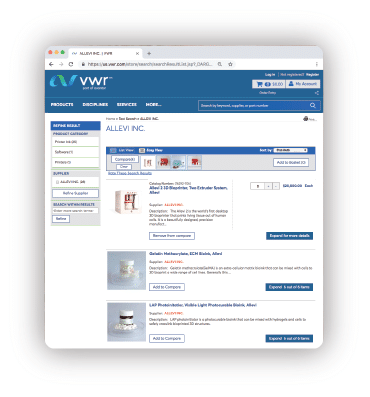 Here at Allevi, we are constantly working to make our bioprinters and bioinks accessible to scientists worldwide.  Our mission is to get Allevi 3D bioprinters into the best research labs where they can accelerate the pace of discovery and push the boundaries of biology. That's why today we're excited to announce that you can now shop Allevi products on the world's leading life science equipment distributor; VWR International. 
VWR services the industrial, government, life science, education, electronics, and pharmaceutical markets as a leading worldwide distributor of scientific equipment, supplies, chemicals, and furniture.

Through a combination of strategic alliances with world's most respected manufacturers and continuous improvement of systems and services, we supply hundreds of thousands of products to the scientific community on time, every time. That is our mission.

We work to provide our customers with complete solutions. The Life Science product offering and services continually evolve to meet our customers' demands in a broad range of applications. You have access to trusted brands that address your existing challenges and make tomorrow's breakthrough discoveries possible.
We're proud to partner with this world-class distributor to make it easier than ever to get an Allevi bioprinter into your lab and begin changing the world. Join us.