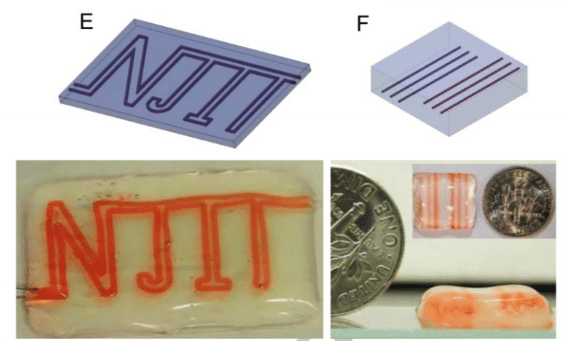 We are VERY excited to announce the latest addition to the Allevi Author Club; the Guvendiren Lab from the New Jersey Institute of Technology. Dr. Guvendiren's lab focuses on creating novel bioinks for tissue engineering and regenerative medicine applications with a focus on 3D bioprinting. Their most recent paper, published in Acta Biomaterialia and titled "3D bioprinting of complex channels within cell-laden hydrogels", explores their new approach to 3D bioprinting vascularized tissue.
There are many different methods for creating microchannels within constructs, including electrospinning, fiber bonding, and casting solvents into molds. However, these techniques don't allow for precise control of channel size, shape or location. They can also be time-consuming and restrictive in the number of cell lines that you are able to work with simultaneously.
The Guvendiren lab is exploring a new approach to creating these channel-laden tissues using their Allevi 2 bioprinter. In their paper, they explore a method of 3D bioprinting sacrificial bioinks into cell-laden hydrogels. Specifically, they bioprinted pluronic into methacrylated alginate/methacrylated hyaluronic acid. This technique allows them to create custom channel geometries, control channel thickness and tune the hydrogel rigidity. They also explored a super cool technique wherein they alter the printhead speed in order to create channels of differing diameters.
Their images from confocal scanning show strong endothelial cell (HUVEC) attachment to the channel walls and depict the final 3D bioprinted vein construct.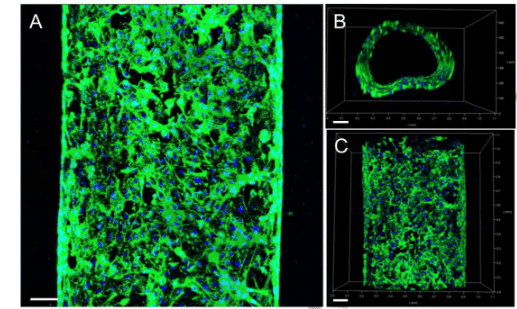 This research explores important techniques for creating tunable microchannels within 3D tissues. We can imagine a future wherein these methods are used to create 3D bioprinted organs with complex vascular networks. It could also be used to create custom 3D models to study disease progression and test drug efficacy and toxicity. Amazing work, Guvendiren Lab!!
Click through to read their material characterization and learn more about their bioprinting approach: https://www.sciencedirect.com/science/article/pii/S1742706119301515.