It is no surprise that recent advances in 3D cell culture models have greatly contributed to the understanding of organ function and disease, encouraging the development of new therapies. One such recent development is an enhanced 3D liver model created by researchers in France using bioprinting technology.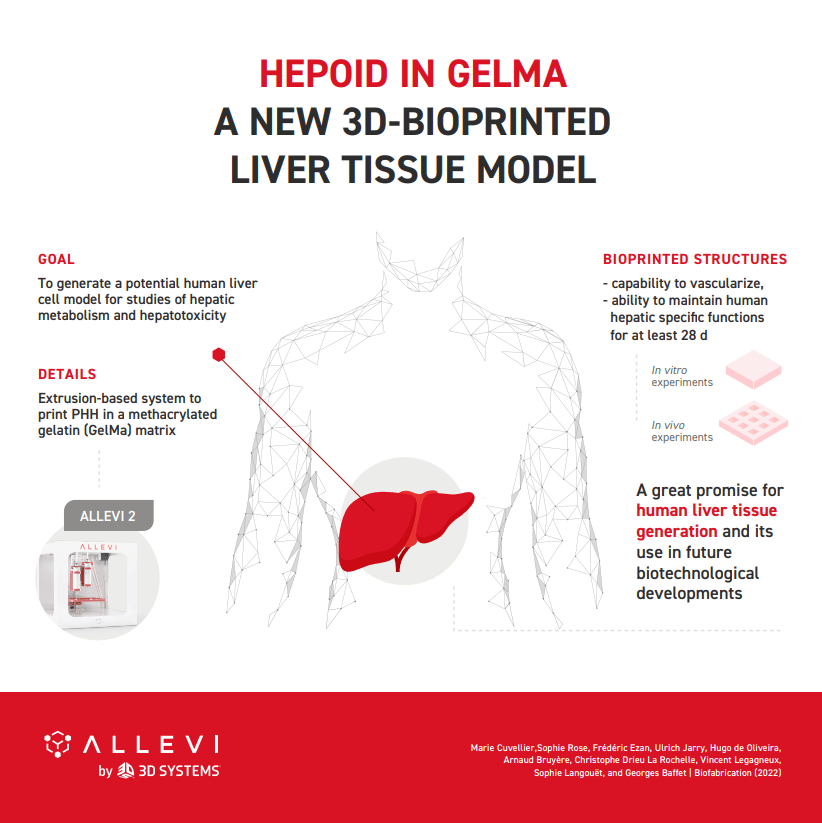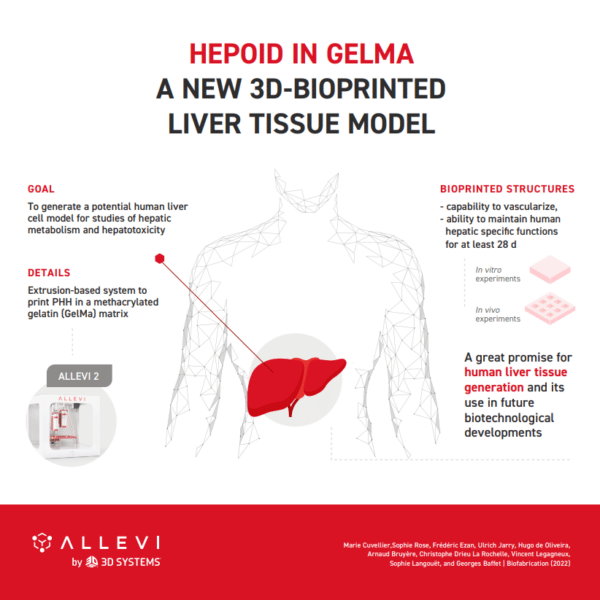 In their publication, the authors used our Allevi 2 bioprinter to bioprint a combination of primary human hepatocytes (PHHs) and a hydrogel matrix to generate a potential human liver cell model for studies of hepatic metabolism and hepatotoxicity.
Specifically, the researchers used an extrusion-based bioprinting system to print PHHs in a widely studied, low-cost, photocrosslinkable hydrogel matrix known as Gelatin Methacrylate (GelMA). The print parameters utilized on the Allevi 2 are summarized in the following table:

Through the in vitro analysis (based on a protocol previously described for this type of liver cell line), the Hepoid GelMA model was shown to be able to promote cell viability, as well as sustain the hepatic differentiation and therefore liver specificity when cultured for one month. In addition, the ability to maintain specific human liver functions and vascularization were found after in vivo implantation of the 3D‐bioprinted liver tissue model (11.4 × 11.4 × 2 mm) in mice for at least 28 days.
This publication includes a detailed and reproducible protocol for the fabrication of a functional human liver tissue model using extrusion-based bioprinting of GelMA. The next steps involve creating complex multicellular printed structures and associating them with microfluidics systems  also known as organs-on-chips, a powerful tool for new drug development and liver tissue engineering.
You can read the full publication, "In vitro long-term differentiation and functionality of three-dimensional bioprinted primary human hepatocytes: application for in vivo engraftment" in Biofabrication. To read more publications by Allevi Authors, check out the Allevi Blog!
Read the full publication here.