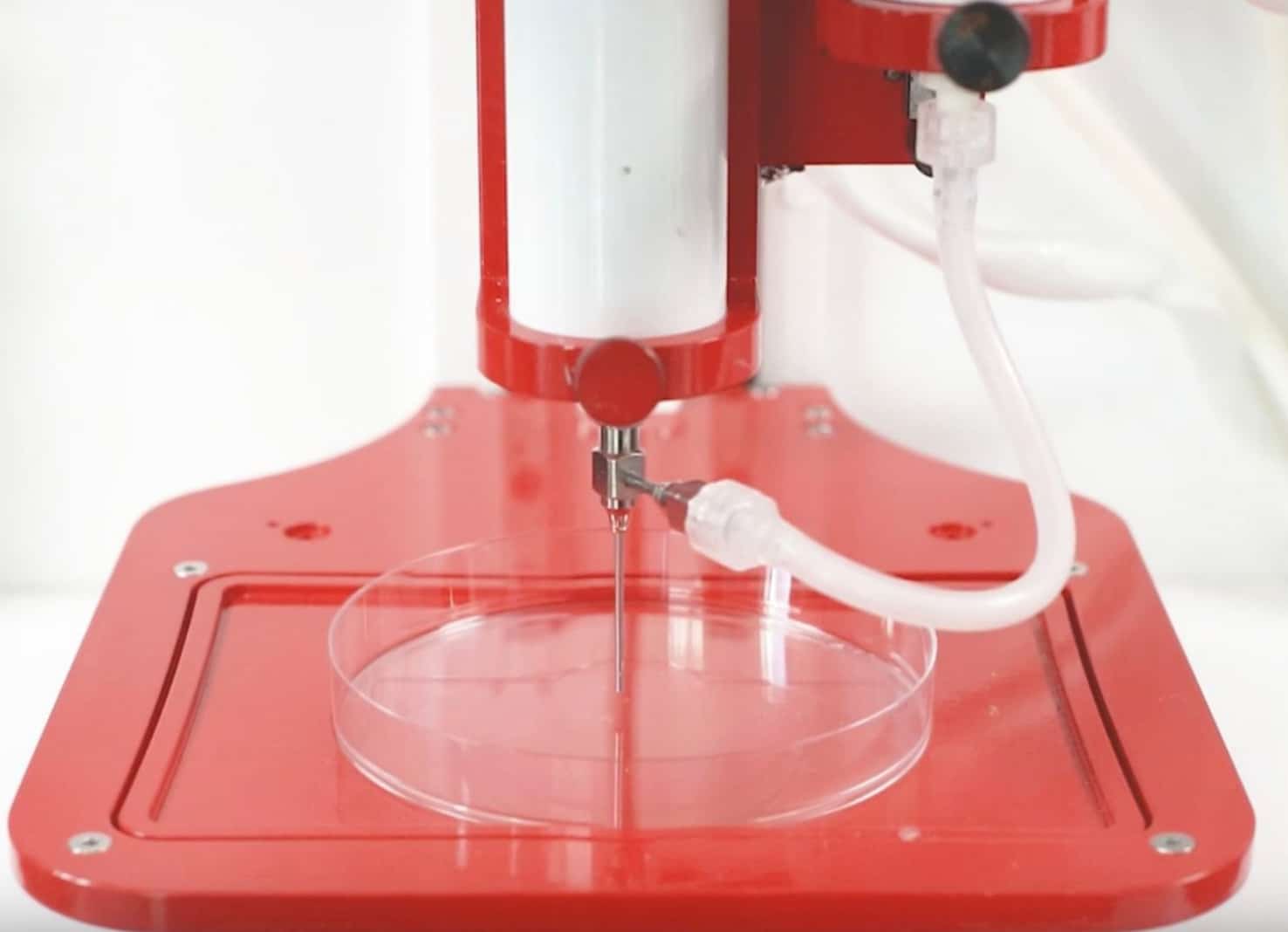 Overview
The Allevi Coaxial kit allows users with an Allevi 2 or Allevi 3 bioprinter to mix materials from two syringes during printing. This is especially useful when working with materials that require curing catalysts or liquid crosslinking agents. These materials might not be viscous enough to print without these agents or extrudable when mixed in the syringe. This protocol will walk you through a step-by-step process for coaxial bioprinting.
Some examples of materials that can be printed with the Allevi coaxial protocol are sodium alginate and calcium chloride, silicones, and their respective catalysts, or any other materials that you desire to mix during a print.
Materials
Allevi coaxial tubing with luer-lock connectors

Note: the coaxial nozzle is made of stainless steel and can be cleaned and autoclaved between uses. For new tubing, sterile Coaxial Kit refills can be purchased on the Allevi shop. 

Desired bioinks/materials (Alginate, Calcium Chloride, PDMS, Silicone)
Methods for Coaxial Bioprinting:
Setup:
Insert your loaded syringes in adjacent Allevi extruders;
Attach the coaxial nozzle to one syringe;

Note: we have found that attaching the coaxial nozzle to the syringe containing the most viscous material yields better printing results.

Attach the tube luer-lock to the coaxial nozzle;
Attach the remaining tube luer-lock to the syringe coupler;
Connect the syringe coupler to the other syringe;

Note: it might be helpful to not have the tubing connected to your syringe for this part. That way, the syringe can rotate during attachment without disturbing your setup.

Attach all printer tubing to the syringes;
Home all axes to make sure your tube placement is not affecting extruder movement;

Note: if the tubing is in the way, re-adjust and retry homing.

Calibrate your nozzle extruder and set up your print choosing the desired pressures for each syringe. Make sure to test which pressures are optimal for your materials.

Warning: be careful to not set pressures that will cause material from one syringe to extrude inside the other. Start with low pressures and slowly increase them to find the optimal mixing parameters.
Note: make sure that your G-code contains the necessary commands for co-extrusion within commands. Further instructions are in the following section.
G-code:
Slice your desired STL with settings for one extruder;

Note: for the Allevi 2 – remember that T0 codes for extruder 1 (left when facing the printer), and T1 codes for extruder 2 (right when facing the printer). For the Allevi 3 – remember that T0 codes for extruder 1 (left when facing the printer), T1 codes for extruder 2 (middle when facing the printer), and T2 codes for extruder 3 (right when facing the printer).

The line of code to turn extruder 2 pressure on is M42 P17 S255 and M42 P17 S0 to turn it off;

Note: for extruder 1, change P17 to P16. For extruder 3, change P17 to P18.
Note: Allevi 2 users may need to enter M106 T1 as well to turn extruder 2 on. Similarly, they may need to enter M107 T1 to turn extruder 2 off.

Insert the on–command after the first G1 X_ Y_ E_ F_ command;
Insert the off-command before the last G92 E0 command.

Note: this will have extruder 2 on throughout the entire print, even when the nozzle is moving between extrusion points. To turn extruder 2 on only on print commands, repeat on-command and off-command insertions after every G1 X_ Y_ E_ F_ command and after every G92 E0 command.
Example code:
This G-code snippet prints a 0.6 mm tall, hollow cylinder with 0.2 mm walls. The first step to transform this code into a coaxial code is to copy your G-code from Repetier Host into a text editor, so that you can more easily edit your code.
M104 S200 ; set temperature
G28 ; home all axes
M109 S200 ; wait for temperature to be reached
G21 ; set units to millimeters
G90 ; use absolute coordinates
M82 ; use absolute distances
G92 E0
G1 Z0.200 F240.000
G1 X-4.094 Y6.147 F240.000
G1 X-4.479 Y5.891 E0.00206 F120.000
G1 X-5.089 Y5.372 E0.00561
G1 X-5.640 Y4.791 E0.00918
G1 X-6.125 Y4.153 E0.01274
G1 X-6.538 Y3.466 E0.01630
G1 X-6.874 Y2.739 E0.01986
G1 X-7.109 Y2.043 E0.02312
G1 X-7.302 Y1.197 E0.02698
G1 X-7.389 Y0.401 E0.03054
G1 X-7.389 Y-0.401 E0.03410
G1 X-7.302 Y-1.197 E0.03766
G1 X-7.130 Y-1.980 E0.04122
G1 X-6.874 Y-2.739 E0.04478
G1 X-6.538 Y-3.466 E0.04835
G1 X-6.125 Y-4.153 E0.05191
G1 X-5.640 Y-4.791 E0.05547
G1 X-5.089 Y-5.372 E0.05903
G1 X-4.478 Y-5.891 E0.06259
G1 X-3.815 Y-6.341 E0.06615
G1 X-3.107 Y-6.716 E0.06971
G1 X-2.363 Y-7.012 E0.07327
G1 X-1.591 Y-7.227 E0.07683
G1 X-0.800 Y-7.356 E0.08040
G1 X0.000 Y-7.400 E0.08396
G1 X0.733 Y-7.360 E0.08722
G1 X1.591 Y-7.227 E0.09108 F120.000
G1 X2.363 Y-7.012 E0.09464
G1 X3.107 Y-6.716 E0.09820
G1 X3.815 Y-6.341 E0.10176
G1 X4.478 Y-5.891 E0.10532
G1 X5.089 Y-5.372 E0.10888
G1 X5.640 Y-4.791 E0.11244
G1 X6.125 Y-4.153 E0.11600
G1 X6.538 Y-3.466 E0.11957
G1 X6.874 Y-2.739 E0.12313
G1 X7.130 Y-1.980 E0.12669
G1 X7.302 Y-1.197 E0.13025
G1 X7.389 Y-0.401 E0.13381
G1 X7.389 Y0.401 E0.13737
G1 X7.302 Y1.197 E0.14093
G1 X7.145 Y1.914 E0.14419
G1 X6.874 Y2.739 E0.14805
G1 X6.538 Y3.466 E0.15161
G1 X6.125 Y4.153 E0.15517
G1 X5.640 Y4.791 E0.15874
G1 X5.089 Y5.372 E0.16230
G1 X4.478 Y5.891 E0.16586
G1 X3.815 Y6.341 E0.16942
G1 X3.107 Y6.716 E0.17298
G1 X2.363 Y7.012 E0.17654
G1 X1.591 Y7.227 E0.18010
G1 X0.800 Y7.356 E0.18366
G1 X-0.000 Y7.400 E0.18722
G1 X-0.800 Y7.356 E0.19079
G1 X-1.591 Y7.227 E0.19435
G1 X-2.363 Y7.012 E0.19791
G1 X-3.107 Y6.716 E0.20147
G1 X-3.756 Y6.372 E0.20473
G1 X-4.069 Y6.164 E0.20640
G92 E0
G1 Z0.400 F240.000
G1 X-4.094 Y6.147 F240.000
G1 X-4.479 Y5.891 E0.00206 F120.000
G1 X-5.089 Y5.372 E0.00561
G1 X-5.640 Y4.791 E0.00918
G1 X-6.125 Y4.153 E0.01274
G1 X-6.538 Y3.466 E0.01630
G1 X-6.874 Y2.739 E0.01986
G1 X-7.109 Y2.043 E0.02312
G1 X-7.302 Y1.197 E0.02698
G1 X-7.389 Y0.401 E0.03054
G1 X-7.389 Y-0.401 E0.03410
G1 X-7.302 Y-1.197 E0.03766
G1 X-7.130 Y-1.980 E0.04122
G1 X-6.874 Y-2.739 E0.04478
G1 X-6.538 Y-3.466 E0.04835
G1 X-6.125 Y-4.153 E0.05191
G1 X-5.640 Y-4.791 E0.05547
G1 X-5.089 Y-5.372 E0.05903
G1 X-4.478 Y-5.891 E0.06259
G1 X-3.815 Y-6.341 E0.06615
G1 X-3.107 Y-6.716 E0.06971
G1 X-2.363 Y-7.012 E0.07327
G1 X-1.591 Y-7.227 E0.07683
G1 X-0.800 Y-7.356 E0.08040
G1 X0.000 Y-7.400 E0.08396
G1 X0.733 Y-7.360 E0.08722
G1 X1.591 Y-7.227 E0.09108 F120.000
G1 X2.363 Y-7.012 E0.09464
G1 X3.107 Y-6.716 E0.09820
G1 X3.815 Y-6.341 E0.10176
G1 X4.478 Y-5.891 E0.10532
G1 X5.089 Y-5.372 E0.10888
G1 X5.640 Y-4.791 E0.11244
G1 X6.125 Y-4.153 E0.11600
G1 X6.538 Y-3.466 E0.11957
G1 X6.874 Y-2.739 E0.12313
G1 X7.130 Y-1.980 E0.12669
G1 X7.302 Y-1.197 E0.13025
G1 X7.389 Y-0.401 E0.13381
G1 X7.389 Y0.401 E0.13737
G1 X7.302 Y1.197 E0.14093
G1 X7.145 Y1.914 E0.14419
G1 X6.874 Y2.739 E0.14805
G1 X6.538 Y3.466 E0.15161
G1 X6.125 Y4.153 E0.15517
G1 X5.640 Y4.791 E0.15874
G1 X5.089 Y5.372 E0.16230
G1 X4.478 Y5.891 E0.16586
G1 X3.815 Y6.341 E0.16942
G1 X3.107 Y6.716 E0.17298
G1 X2.363 Y7.012 E0.17654
G1 X1.591 Y7.227 E0.18010
G1 X0.800 Y7.356 E0.18366
G1 X-0.000 Y7.400 E0.18722
G1 X-0.800 Y7.356 E0.19079
G1 X-1.591 Y7.227 E0.19435
G1 X-2.363 Y7.012 E0.19791
G1 X-3.107 Y6.716 E0.20147
G1 X-3.756 Y6.372 E0.20473
G1 X-4.069 Y6.164 E0.20640
G92 E0
G1 Z0.600 F240.000
G1 X-4.094 Y6.147 F240.000
G1 X-4.479 Y5.891 E0.00206 F120.000
G1 X-5.089 Y5.372 E0.00561
G1 X-5.640 Y4.791 E0.00918
G1 X-6.125 Y4.153 E0.01274
G1 X-6.538 Y3.466 E0.01630
G1 X-6.874 Y2.739 E0.01986
G1 X-7.109 Y2.043 E0.02312
G1 X-7.302 Y1.197 E0.02698
G1 X-7.389 Y0.401 E0.03054
G1 X-7.389 Y-0.401 E0.03410
G1 X-7.302 Y-1.197 E0.03766
G1 X-7.130 Y-1.980 E0.04122
G1 X-6.874 Y-2.739 E0.04478
G1 X-6.538 Y-3.466 E0.04835
G1 X-6.125 Y-4.153 E0.05191
G1 X-5.640 Y-4.791 E0.05547
G1 X-5.089 Y-5.372 E0.05903
G1 X-4.478 Y-5.891 E0.06259
G1 X-3.815 Y-6.341 E0.06615
G1 X-3.107 Y-6.716 E0.06971
G1 X-2.363 Y-7.012 E0.07327
G1 X-1.591 Y-7.227 E0.07683
G1 X-0.800 Y-7.356 E0.08040
G1 X0.000 Y-7.400 E0.08396
G1 X0.733 Y-7.360 E0.08722
G1 X1.591 Y-7.227 E0.09108 F120.000
G1 X2.363 Y-7.012 E0.09464
G1 X3.107 Y-6.716 E0.09820
G1 X3.815 Y-6.341 E0.10176
G1 X4.478 Y-5.891 E0.10532
G1 X5.089 Y-5.372 E0.10888
G1 X5.640 Y-4.791 E0.11244
G1 X6.125 Y-4.153 E0.11600
G1 X6.538 Y-3.466 E0.11957
G1 X6.874 Y-2.739 E0.12313
G1 X7.130 Y-1.980 E0.12669
G1 X7.302 Y-1.197 E0.13025
G1 X7.389 Y-0.401 E0.13381
G1 X7.389 Y0.401 E0.13737
G1 X7.302 Y1.197 E0.14093
G1 X7.145 Y1.914 E0.14419
G1 X6.874 Y2.739 E0.14805
G1 X6.538 Y3.466 E0.15161
G1 X6.125 Y4.153 E0.15517
G1 X5.640 Y4.791 E0.15874
G1 X5.089 Y5.372 E0.16230
G1 X4.478 Y5.891 E0.16586
G1 X3.815 Y6.341 E0.16942
G1 X3.107 Y6.716 E0.17298
G1 X2.363 Y7.012 E0.17654
G1 X1.591 Y7.227 E0.18010
G1 X0.800 Y7.356 E0.18366
G1 X-0.000 Y7.400 E0.18722
G1 X-0.800 Y7.356 E0.19079
G1 X-1.591 Y7.227 E0.19435
G1 X-2.363 Y7.012 E0.19791
G1 X-3.107 Y6.716 E0.20147
G1 X-3.756 Y6.372 E0.20473
G1 X-4.069 Y6.164 E0.20640
G92 E0
In the editor, first, find the line of code that tells your extruder to move into the first printing position. As explained before, that line is of the format G1 X_ Y_ E_ F_. It is possible to see that the first line that contains that type of code is line 9. Right below that line, add M42 P17 S255 (for extruder 2), or M42 P16 S255 (for extruder 1 – make sure your code is set for extruder 2 – T1). If you want to print with extruder 2 (T1) and activate extruder 3 (T2), add M42 P18 S255. The new code will look like the following:
7 G92 E0
8 G1 Z0.200 F240.000
9 G1 X-4.094 Y6.147 F240.000
10 M42 P17 S255
11 G1 X-4.479 Y5.891 E0.00206 F120.000
12 G1 X-5.089 Y5.372 E0.00561
13 G1 X-5.640 Y4.791 E0.00918
Now that you have your extruder 1 on-command, let's make sure to turn it off. Search for the last G92 E0 command. In this case, it is now line 194 (since we added a line to the entire code). Add your off-command, or M42 P17 S0 after this. Make sure to code for the correct extruder. It will look like the following:
190 G1 X-2.363 Y7.012 E0.19791
191 G1 X-3.107 Y6.716 E0.20147
192 G1 X-3.756 Y6.372 E0.20473
193 G1 X-4.069 Y6.164 E0.20640
194 G92 E0195 M42 P17 S0
You can also do this throughout your code so that your extruder 2 does not extrude during extruder movements. The final code will look like the following:
M104 S200 ; set temperature
G28 ; home all axes
M109 S200 ; wait for temperature to be reached
G21 ; set units to millimeters G90 ; use absolute coordinates
M82 ; use absolute distances for extrusion
G92 E0
G1 Z0.200 F240.000
G1 X-4.094 Y6.147 F240.000
M42 P17 S255
G1 X-4.479 Y5.891 E0.00206 F120.000
G1 X-5.089 Y5.372 E0.00561
G1 X-5.640 Y4.791 E0.00918
G1 X-6.125 Y4.153 E0.01274
G1 X-6.538 Y3.466 E0.01630
G1 X-6.874 Y2.739 E0.01986
G1 X-7.109 Y2.043 E0.02312
G1 X-7.302 Y1.197 E0.02698
G1 X-7.389 Y0.401 E0.03054
G1 X-7.389 Y-0.401 E0.03410
G1 X-7.302 Y-1.197 E0.03766
G1 X-7.130 Y-1.980 E0.04122
G1 X-6.874 Y-2.739 E0.04478
G1 X-6.538 Y-3.466 E0.04835
G1 X-6.125 Y-4.153 E0.05191
G1 X-5.640 Y-4.791 E0.05547
G1 X-5.089 Y-5.372 E0.05903
G1 X-4.478 Y-5.891 E0.06259
G1 X-3.815 Y-6.341 E0.06615
G1 X-3.107 Y-6.716 E0.06971
G1 X-2.363 Y-7.012 E0.07327
G1 X-1.591 Y-7.227 E0.07683
G1 X-0.800 Y-7.356 E0.08040
G1 X0.000 Y-7.400 E0.08396
G1 X0.733 Y-7.360 E0.08722
G1 X1.591 Y-7.227 E0.09108 F120.000
G1 X2.363 Y-7.012 E0.09464
G1 X3.107 Y-6.716 E0.09820
G1 X3.815 Y-6.341 E0.10176
G1 X4.478 Y-5.891 E0.10532
G1 X5.089 Y-5.372 E0.10888
G1 X5.640 Y-4.791 E0.11244
G1 X6.125 Y-4.153 E0.11600
G1 X6.538 Y-3.466 E0.11957
G1 X6.874 Y-2.739 E0.12313
G1 X7.130 Y-1.980 E0.12669
G1 X7.302 Y-1.197 E0.13025
G1 X7.389 Y-0.401 E0.13381
G1 X7.389 Y0.401 E0.13737
G1 X7.302 Y1.197 E0.14093
G1 X7.145 Y1.914 E0.14419
G1 X6.874 Y2.739 E0.14805
G1 X6.538 Y3.466 E0.15161
G1 X6.125 Y4.153 E0.15517
G1 X5.640 Y4.791 E0.15874
G1 X5.089 Y5.372 E0.16230
G1 X4.478 Y5.891 E0.16586
G1 X3.815 Y6.341 E0.16942
G1 X3.107 Y6.716 E0.17298
G1 X2.363 Y7.012 E0.17654
G1 X1.591 Y7.227 E0.18010
G1 X0.800 Y7.356 E0.18366
G1 X-0.000 Y7.400 E0.18722
G1 X-0.800 Y7.356 E0.19079
G1 X-1.591 Y7.227 E0.19435
G1 X-2.363 Y7.012 E0.19791
G1 X-3.107 Y6.716 E0.20147
G1 X-3.756 Y6.372 E0.20473
G1 X-4.069 Y6.164 E0.20640
G92 E0M42 P17 S0
G1 Z0.400 F240.000
G1 X-4.094 Y6.147 F240.000
M42 P17 S255
G1 X-4.479 Y5.891 E0.00206 F120.000
G1 X-5.089 Y5.372 E0.00561
G1 X-5.640 Y4.791 E0.00918
G1 X-6.125 Y4.153 E0.01274
G1 X-6.538 Y3.466 E0.01630
G1 X-6.874 Y2.739 E0.01986
G1 X-7.109 Y2.043 E0.02312
G1 X-7.302 Y1.197 E0.02698
G1 X-7.389 Y0.401 E0.03054
G1 X-7.389 Y-0.401 E0.03410
G1 X-7.302 Y-1.197 E0.03766
G1 X-7.130 Y-1.980 E0.04122
G1 X-6.874 Y-2.739 E0.04478
G1 X-6.538 Y-3.466 E0.04835
G1 X-6.125 Y-4.153 E0.05191
G1 X-5.640 Y-4.791 E0.05547
G1 X-5.089 Y-5.372 E0.05903
G1 X-4.478 Y-5.891 E0.06259
G1 X-3.815 Y-6.341 E0.06615
G1 X-3.107 Y-6.716 E0.06971
G1 X-2.363 Y-7.012 E0.07327
G1 X-1.591 Y-7.227 E0.07683
G1 X-0.800 Y-7.356 E0.08040
G1 X0.000 Y-7.400 E0.08396
G1 X0.733 Y-7.360 E0.08722
G1 X1.591 Y-7.227 E0.09108 F120.000
G1 X2.363 Y-7.012 E0.09464
G1 X3.107 Y-6.716 E0.09820
G1 X3.815 Y-6.341 E0.10176
G1 X4.478 Y-5.891 E0.10532
G1 X5.089 Y-5.372 E0.10888
G1 X5.640 Y-4.791 E0.11244
G1 X6.125 Y-4.153 E0.11600
G1 X6.538 Y-3.466 E0.11957
G1 X6.874 Y-2.739 E0.12313
G1 X7.130 Y-1.980 E0.12669
G1 X7.302 Y-1.197 E0.13025
G1 X7.389 Y-0.401 E0.13381
G1 X7.389 Y0.401 E0.13737
G1 X7.302 Y1.197 E0.14093
G1 X7.145 Y1.914 E0.14419
G1 X6.874 Y2.739 E0.14805
G1 X6.538 Y3.466 E0.15161
G1 X6.125 Y4.153 E0.15517
G1 X5.640 Y4.791 E0.15874
G1 X5.089 Y5.372 E0.16230
G1 X4.478 Y5.891 E0.16586
G1 X3.815 Y6.341 E0.16942
G1 X3.107 Y6.716 E0.17298
G1 X2.363 Y7.012 E0.17654
G1 X1.591 Y7.227 E0.18010
G1 X0.800 Y7.356 E0.18366
G1 X-0.000 Y7.400 E0.18722
G1 X-0.800 Y7.356 E0.19079
G1 X-1.591 Y7.227 E0.19435
G1 X-2.363 Y7.012 E0.19791
G1 X-3.107 Y6.716 E0.20147
G1 X-3.756 Y6.372 E0.20473
G1 X-4.069 Y6.164 E0.20640
G92 E0M42 P17 S0
G1 Z0.600 F240.000
G1 X-4.094 Y6.147 F240.000
M42 P17 S255
G1 X-4.479 Y5.891 E0.00206 F120.000
G1 X-5.089 Y5.372 E0.00561
G1 X-5.640 Y4.791 E0.00918
G1 X-6.125 Y4.153 E0.01274
G1 X-6.538 Y3.466 E0.01630
G1 X-6.874 Y2.739 E0.01986
G1 X-7.109 Y2.043 E0.02312
G1 X-7.302 Y1.197 E0.02698
G1 X-7.389 Y0.401 E0.03054
G1 X-7.389 Y-0.401 E0.03410
G1 X-7.302 Y-1.197 E0.03766
G1 X-7.130 Y-1.980 E0.04122
G1 X-6.874 Y-2.739 E0.04478
G1 X-6.538 Y-3.466 E0.04835
G1 X-6.125 Y-4.153 E0.05191
G1 X-5.640 Y-4.791 E0.05547
G1 X-5.089 Y-5.372 E0.05903
G1 X-4.478 Y-5.891 E0.06259
G1 X-3.815 Y-6.341 E0.06615
G1 X-3.107 Y-6.716 E0.06971
G1 X-2.363 Y-7.012 E0.07327
G1 X-1.591 Y-7.227 E0.07683
G1 X-0.800 Y-7.356 E0.08040
G1 X0.000 Y-7.400 E0.08396
G1 X0.733 Y-7.360 E0.08722
G1 X1.591 Y-7.227 E0.09108 F120.000
G1 X2.363 Y-7.012 E0.09464
G1 X3.107 Y-6.716 E0.09820
G1 X3.815 Y-6.341 E0.10176
G1 X4.478 Y-5.891 E0.10532
G1 X5.089 Y-5.372 E0.10888
G1 X5.640 Y-4.791 E0.11244
G1 X6.125 Y-4.153 E0.11600
G1 X6.538 Y-3.466 E0.11957
G1 X6.874 Y-2.739 E0.12313
G1 X7.130 Y-1.980 E0.12669
G1 X7.302 Y-1.197 E0.13025
G1 X7.389 Y-0.401 E0.13381
G1 X7.389 Y0.401 E0.13737
G1 X7.302 Y1.197 E0.14093
G1 X7.145 Y1.914 E0.14419
G1 X6.874 Y2.739 E0.14805
G1 X6.538 Y3.466 E0.15161
G1 X6.125 Y4.153 E0.15517
G1 X5.640 Y4.791 E0.15874
G1 X5.089 Y5.372 E0.16230
G1 X4.478 Y5.891 E0.16586
G1 X3.815 Y6.341 E0.16942
G1 X3.107 Y6.716 E0.17298
G1 X2.363 Y7.012 E0.17654
G1 X1.591 Y7.227 E0.18010
G1 X0.800 Y7.356 E0.18366
G1 X-0.000 Y7.400 E0.18722
G1 X-0.800 Y7.356 E0.19079
G1 X-1.591 Y7.227 E0.19435
G1 X-2.363 Y7.012 E0.19791
G1 X-3.107 Y6.716 E0.20147
G1 X-3.756 Y6.372 E0.20473
G1 X-4.069 Y6.164 E0.20640
G92 E0M42 P17 S0